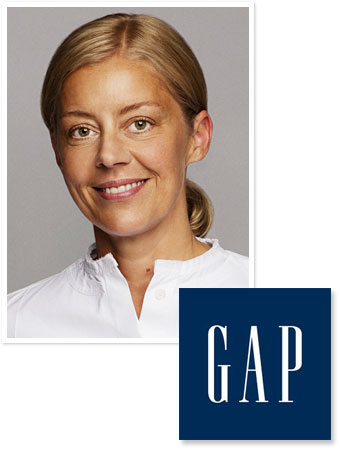 Gap's last design director, Patrick Robinson, was hailed as a "savior" when he first signed on with the company. But he was thrown off the ship more than a year ago — and Gap Inc. hasfinally named a new savior to oversee its flagship brand.
Gap's next look across all of its departments will be molded by 42-year-old Danish-born Rebekka Bay, who has been named creative director and head of global design. She was plucked from Danish design house Bruuns Bazaar, where she oversaw women's and men's apparel design andwon kudos for turning out a Spring/Summer 2012 collection at Copenhagen Fashion Week that was described as "young, but also fetching on adults. And all of it came in a timeless style with a twist and edge controlled by a designer who made no compromise with processing or quality."
Before that, she was a top exec at H&M, where she launched and developed the high-end COS brand in 2006, which has had much success in Europe, Asia, and the Middle East, the Daily Mailnotes. Bay's design chops and global experience and mens/womenswear experience should bode well for the Gap brand.
"We've taken the time to identify the right creative leader for Gap and we've found that in Rebekka," said Stephen Sunnucks, president, Gap Inc. international, about Bay's prospects. "We're confident that Rebekka's approach to design along with her considerable international experience will allow her to help us build upon the momentum we're delivering in the business today."
The way the Daily Beast sees it, "the hire signals a new hope for the GAP, which has been struggling to capture a loyal audience for the past few years." The new designs by Bay, who will be based in New York, won't be available until 2013, of course, but her hiring signals that Gap Inc. is committed to upping the style quotient at its flagship retail and apparel brand.
Bay comes aboard when the company is just coming off some good quarterly news, with earnings increasing in the second quarter. Glenn K. Murphy, the company's chairman and CEO, cited consumers' desire for excellence in product design as a reason for the uptick.
"Now there are a number of reasons why our business has been consistently positive for the first half of this year," Murphy commented to analysts and investors. "The number one reason is product, and where there's been a lot of focus, a lot of effort starting late last year with our product teams. I'm really proud of the work they've done in the first half, whether that's on the right styles, which, obviously, we've had great success with so far, particularly in the second quarter. The color trend has been good for the industry, but we've capitalized on it. I think we've really focused on fit and consistency of fit, and our scores on that front are improving into the second quarter."
Bay will also be competing against her former colleagues when COS enters the U.S., as the Daily Beast hears that it is coming soon. Her hiring follows last week's news of the hiring of former JCPenney president and Target CMO Michael Francis in a consultative role starting this week; and the hiring of a former colleague, H&M's former head of global sales Stefan Larsson, who's joining Gap Inc. as president of Old Navy. Like Bay, Larsson starts in October.