by
Sheila Shayon
In what was quite an eventful day for the aging internet company, Yahoo announced significant changes to Flickr at a media event in New York City on Monday—a perfectly timed distraction from concerns buzzing over its same-day Tumblr acquisition.
As announced at the press conference and on its blog, Flickr is back after a rough ride with a new design, photo-centric layout and one full terabyte of storage—way more than most users could ever use. "Given the odd nature of most photo sharing services, you are either limited to a few dozen gigabytes or, in the case of Instagram and other mobile services, an unstated upper limit that is not part of the marketing collateral. While I don't doubt that Google or Facebook could make the terabyte claim in the near future, being first to market with this particular feature is an important milestone," TechCrunch notes.
Acquired by Yahoo in 2005, the service has since spoiled under Yahoo's rule, however CEO Marissa Mayer said she received an abundance of requests to improve the serice when she took the helm last year. "Flickr was once awesome, and it languished... now we want it to be awesome again," Mayer said in a press announcement. The service reaches 89 million people who have contributed over 8 billion photos, and with the new improvements, the service is bound to attract many more.
The new Flickr replaces Flickr Pro, eliminating previous upload and storage limits and allowing a maximum photo size of 200MB (it was 10MB for free users before), as well as the ability to create collections, post to up to 60 group pools, limit the maximum image size available to others and upload full HD videos up to 1GB each, with playback of three minutes. There will also be an option for users to remove ads from the site for a fee of $49.99 per year, Mashable reports.
The new desktop and Android apps will include full integration with Facebook, Instagram and, of course, Tumblr. In fact, the platform's redesign challenges Facebook directly with redesigned user profiles that feature cover photos, and Mayer was quick to point out that Flickr won't force you to crop your photos, like another service, Instagram.
The Flickr event, which followed the company's news earlier in the day of its $1.1 billion acquisition of social blogging site Tumblr, wasn't the last of its announcements. Mayer told a crowd of media gathered in New York's Times Square that the company would be relocating its 500 New York employees to the former New York Times Building, noting that Tumblr would remain in its downtown offices.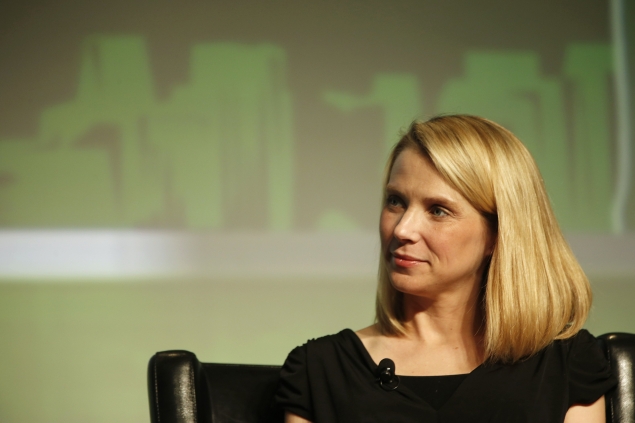 She also made a faux pas to the Flickr community by stating that "there's really no such thing as professional photographers any more," a statement she clarified on Twitter:
Keeping up with their photo-centric counterparts, Pinterest just announced two new features to further entice advertisers: Pins embedded with additional information about products, recipes and movies and a Pin It button now available on nine mobile apps, including: Behance, Brit+Co, Etsy, Fotopedia, Jetsetter, Modcloth, Snapguide, TED, The North Face and Zulily.
"We're excited about the changes happening on Pinterest," Lauren Amsterdam, founder of Amsterland, told E-Commerce Times. "Rich pins for business is the logical commercial step for Pinterest, allowing users to see more content and tips, even prices and stock, making the path from preview to purchase shorter and simpler."