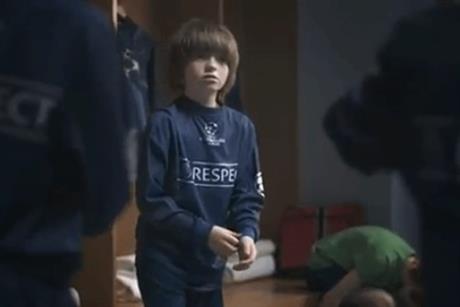 For its 17th season as sponsor of The UEFA Champions League, MasterCard is showcasing its unique position as provider of the UEFA Champions League Player Mascots.
The ads, which were created by McCann London and debuted during the Quarter-final stage last night, show the journey of a young boy becoming one of the 22 children who accompanies a player onto the pitch at the beginning of a UEFA Champions League match. MasterCard has been facilitating the process of choosing team mascots since 1994.
The ads will be shown in 20 different markets across Europe. The narrative of the ad unfolds with 12 chronological idents starting with the moment a lucky boy receives the winning phone-call, waiting in the tunnel holding the hand of a player before he walks on to the pitch and is finally reunited with his father in the stands. Each ident concludes with the summary of the child's Priceless moment with the line "A match they'll never forget: Priceless".
"In line with our global strategy of moving from observing Priceless moments to enabling Priceless experiences this campaign is a wonderful showcase of our unique UEFA Champions League Player Mascot programme and the exclusive opportunities available to all of our cardholders," said MasterCard head of UK marketing Paul Trueman.